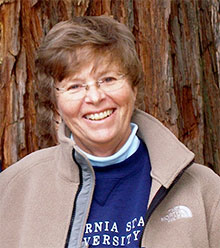 Cherie O'Boyle is the author of five Estela Nogales cozy mysteries set in the fictional village of Arroyo Loco along California's scenic central coast: Fire at Will's, Iced Tee, Missing Mom, Deadly Disguise, and The Boy Who Bought It (March 2018). She has also published several short stories. She is presently working on a serious mystery set in the Sierra Nevada mountains. Cherie is Professor Emerita of Psychology at California State University, San Marcos. While serving in that role, her History of Psychology: A Cultural Perspective, a nonfiction textbook about the history and philosophy of science and psychology was published by Lawrence Erlbaum Associates.
Prior to adopting her current career as a fiction writer, and before earning her PhD in Psychology, Cherie owned and operated a general building contracting firm and worked as a framing and roofing carpenter. She was raised in the San Francisco East Bay area and still lives today in Northern California.
Cherie happily squeezes in as much time with her fictional Arroyo Loco friends as she can, in between adventures with friends, family, and her real life border collies, Shiner and Sky. Shiner is titled in flyball and sheepherding. Sky walks nicely on a leash. Both dogs, and Patience, the cat, are taking lessons in "nose-work" which Cherie hopes will come in handy next time she loses her car keys.